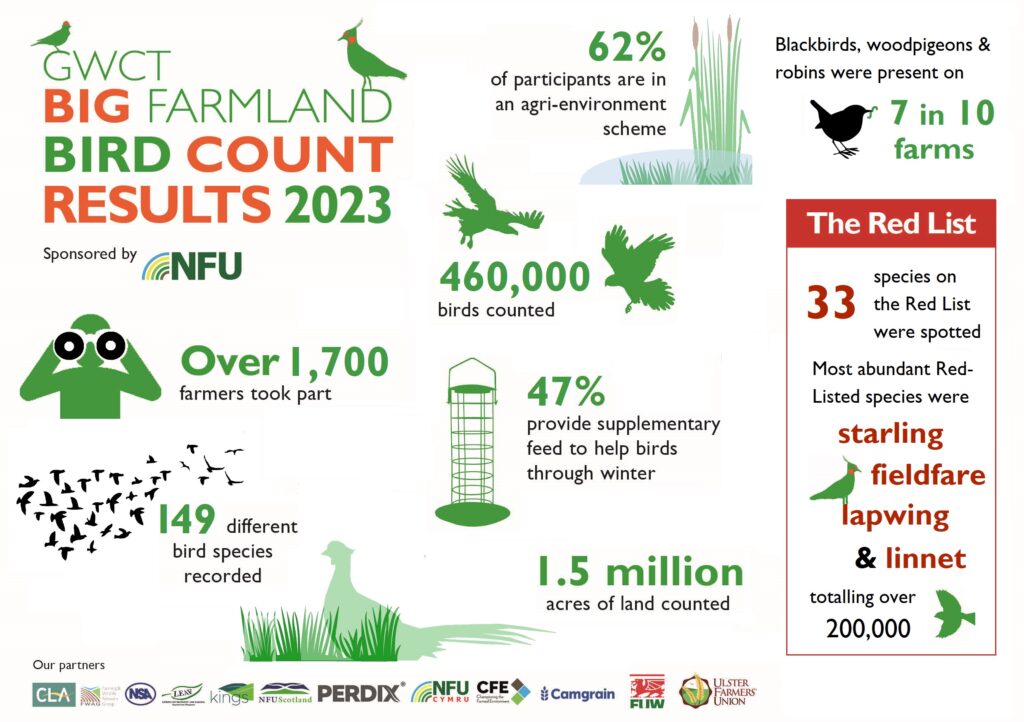 February 2023 saw the tenth annual Big Farmland Bird Count (BFBC) organised by GWCT and sponsored by the NFU.
Over 1,700 farmers took part and recorded 149 species across more than 1.5 million acres, counting more than 460,000 birds!
The BFBC aims to highlight the positive work done by land managers and gamekeepers for farmland bird populations. The count offers a simple means of recording the effects of conservation work on farmland, such as feeding birds through winter or growing special crops to provide seed and cover for birds.
What birds were seen most often?
The birds that people spotted most often were blackbirds, woodpigeons and robins, seen on 7 out of every 10 counts. Birds seen by less than 1% of participants included species that are elusive like jack snipe and bittern, localised such as red grouse, or rare and declining like willow tit.
Familiar farmland birds
67% of participants saw a blue tit during the count
56% saw a buzzard
42% saw a wren
30% saw a skylark
25% saw a kestrel
13% saw a grey partridge
Red List species
A total of 33 species from the Red List for Birds of Conservation Concern and 47 from the Amber List were recorded. Fourteen listed birds appeared in the list of the Top 25 most abundant species (see below). The four most abundant Red Listed species were starling, lapwing, fieldfare and linnet.
The Top 25
The Top 25 birds in terms of total number spotted in the 2023 count (coloured according to their Red List status) were: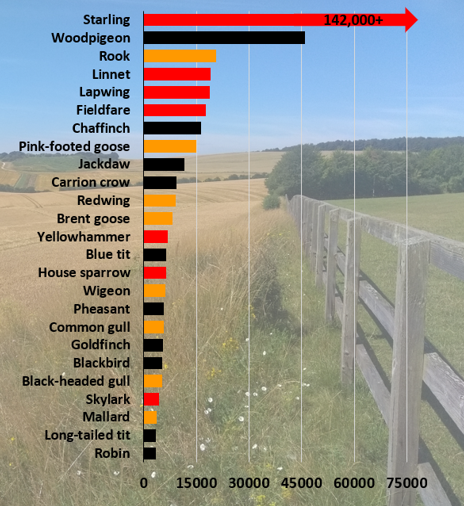 Starling, woodpigeon, rook, linnet and lapwing made up over half of the total birds recorded in the 2023 count!
Who took part?
The average size of farms taking part was 664 hectares. Farmers from across all four countries of the UK took part, with every English county represented. Yet again Norfolk had the most returns, with 164 farmers completing the survey. This was followed by Wiltshire with 109, Suffolk with 93 and Hampshire with 85.
Conservation efforts
Many of the participants undertake conservation work for farmland birds which is very encouraging, and a quarter are members of landscape-scale conservation projects such as farmer clusters. Of all who responded:
62% are in some form of agri-environment scheme
47% were providing some form of extra seed feed for birds (wild bird seed mixes, scatter feeding or hoppers)
36% of participants run a wild or released gamebird shoot
45% of those with shoots grow wild bird seed mixtures and 62% put out supplementary food for farmland birds
Of those without shoots, 21% grow wild bird seed mixtures and 32% put out supplementary food
Thank you
Thank you to everyone that took part and contributed to this year's data, and well done for the fantastic conservation work going on across the country.