By Merlin Becker, Policy & Advisory Officer Scotland
With a chilly and snow-covered start to the day, this year's Big Farmland Bird Count on our Game & Wildlife Scottish Demonstration Farm at Auchnerran reaped some encouraging results. With the sun coming out around 9am, I headed out to take a short stroll along the north-eastern part of the farm. Here the habitat is a mixture of permanent pasture, small copses of Scots pine and spruce woodland, rough grazing land, and stubble fields of a neighbouring mixed cattle and sheep farm.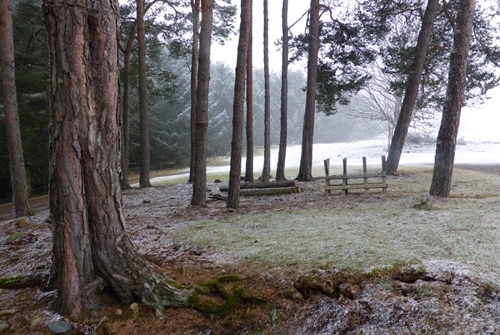 There were several wild cock pheasants feeding out in the stubbles when I started my short walk but they didn't hang around for long, gliding far off into the distance as soon as I got out of the vehicle. Coming to the first clump of Scots pine trees, I saw a number of blue and coal tits darting along the top canopy, continuously on the move to keep fed and warm. On I walked to hear the melodious, flute-like whistle calls of a small flock of linnets flying high above me, venturing out to feed on the stubble fields.
I then heard several different calls up ahead of me in a small, randomly spaced spruce plantation. I know my farmland birds well, but hearing the collective chitter chatter threw me somewhat so I moved in closer to investigate. Stopping in the shade of one of the trees to avoid instant detection, I waited a few minutes for the birds to show themselves again and shortly after this out flew some great tits with a whole suite of different calls, as they are renowned for doing. There were several robins flying around the lower canopy of the plantation. Taking a few more steps I disturbed two hen pheasants that burst into flight as soon as they saw a human form. Looking out towards Mosstown bog, a haven for our iconic wading birds on the farm, I saw a large buck brown hare skipping across the snow-covered fields, which instantly lifted the winter spirits and cold hands.
On the return to my starting point of the count, I was lucky enough to notice some whizzing movement amongst the Scots pine trees I passed earlier. I raised the binoculars to see a tiny treecreeper sticking vertically to the flaking pine bark. This was a perfect end to a thoroughly enjoyable morning out in the beautiful Aberdeenshire countryside, with 16 species recorded on the count sheet. If you haven't got out and about over the past week yet, please do and get involved with our Big Farmland Bird Count. Shouting loud and proud for all the fantastic work farmers and land managers have done for farmland biodiversity right across the UK.